Invitation
DK-NOG, PROSA friends, BSD-DK, The Camp and friends of the house
The time has come to announce Network Warrior Weekend Camp X edition, around easter, 2018 at my place, Kramse.
Setting is as always on The Camp or NWWC, bring your own projects and hack on those with friends around. The main advantage is you can quickly get help or interact and ask other for their opinion. Which library can help me solve X, what program can best do blah, and what hacker tool will give me answers for TCP ports (Nping from the Nmap suite of tools - of course).
We build a common tent about 40m2 and hack through the night, no need to put away your stuff - just hack on! Note: we have done tents in "cold weather" and will if need be lay a carpetlike structure, so yes it will be OK. Bring socks or indoor shoes, as outdoor shoes will not be allowed on the "carpet".
Consider it a garden party where it is okay to bring your laptop, so you can hack and discuss file systems while drinking coke, beers, water, vodka and eat bacon! Bacon is very important and we typically do a barbecue every day - so bring or buy somethings to put over the fire. If you dont eat meat it is of course ok, but I do not have special kitchenware ... :-)
Network Warrior Weekend Camp - garden party with laptop
Coordinates
Casa de Kramse, Avnbøl Alle 7, DK2770 Kastrup, Denmark - take the Copenhagen Metro until Vestamager. Then walk or take bus 33 - total about ~30 minutes from City center, Kgs Nytorv.
When
Around easter in DK, from March 28. - April 1. 2018
March 28, 2018 from about kl 17:00 setup, common tents, cabling, start the fun
Open hacking on your projects, join others projects, have fun
Get the BBQ started make lunch, get the BBQ started make dinner
Drink beer, coffee, water - enjoy yourself. Discuss your fav techstuff
Saturday - BBQ and fun, a good time to invite your spouse, BFF, GF, BF, those curious about your "computer friends"
Sunday hack on
April 1. hack on - until about kl 17:00 pack up your stuff, help take down big tent, hang around say goodbye
You dont have to be there from start to end, but you can - you decide. :-) The core will probably be some 4-5 people all the time, and then people joining a day, two days or more. Avg no of humans around 10 is not unusual in the afternoons, max observed +20 some days.
Note: my back yard has the BornHack Code of Conduct posted, so yes it applies :-D https://bornhack.dk/conduct/
What is it?
An open space for the registered people to be more social when hacking on whatever project they want. I typically work on projects that require more setup and focus than is available during daytime in normal work weeks. So my projects often involve setting up a small infrastructure with networking, 10Gbit, firewalls, routing and routers - and then do some experiments. I have a wide range of equipment like Juniper SRX, OpenBSD PF, Linux devices, Parallella, Raspberry Pi's, switches, access-points etc. Ask me before you bring something heavy, I might have it already - I even have a physical VT100 if you need that. :-D
It resembles a temporary hackerspace where you can sit and hack around the clock, and sometimes the best time is at night when everyone is focused on something and you see the glow from the laptops onto smiling faces.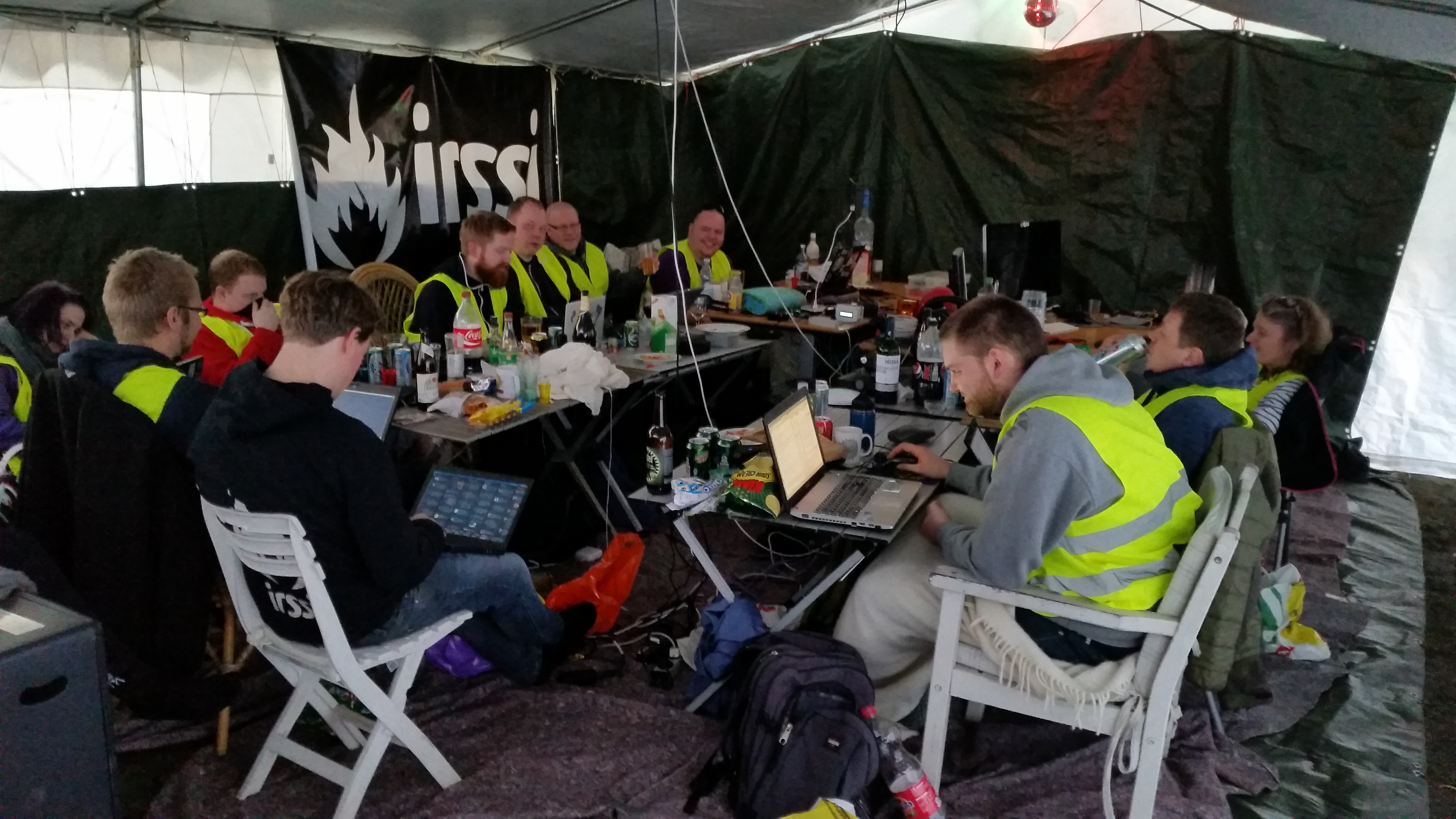 My Keywords
Ethernet, Layer2, Layer3, SNMP, OSPF, BGP, firewalls, routers, switches, syslog, ACL, security, denial of service, syn flooding, Kali Linux, Nmap, portscan, Parallella, Beaglebone, Kibana, Elasticsearch, Suricata, Bro-IDS, Metasploit, 802.1q, 802.11, 802.1x, STP, BPDU guard, IPv4, IPv6, ICMPv6, NTP, Cisco IOS, 802.3ad, Junos, DDoS, pktgen, t50, hping, Kali Linux, ARM, FPGA, Netflow, Netconf, burgers, coke, beer, danish hygge
The Masterplan
Facilities
Toilet (only 1 ugh!) and limited showering - if its free, take a bath :-)
Fiber internet 50/50Mbit and native IPv6
Danish 230Volt limited - let your big itanium server stay at home
Big tent will be common 8mx5m - has room for chairs, we have tables, bring a camping chair if you have it
You need to bring your own tent for sleeping We put up those around the big tent, or on the front lawn - which has lots of space. No sleeping inside my house (except family), but you might be able to sleep under the big tent if you like.
Food is your own responsibility
Buy or bring your own food and drinks - it is your responsebility!
Luckily we have Ye Sushi, Tobano pizza, Supermarket Fakta and Supermarket Spar within walking distance. We will buy coals for the grill and some condiments like remoulade and ketchup.
Registration
You have to register if you plan on being there the whole time and/or bring a sleeping tent - due to limited space. Registration is by email to hlk@kramse.org
Payment
for the whole camp bring 100kr/person which I will use to get breakfast: some bacon, eggs, jam, and bread. If you only pop by for some hours to say hi, no payment needed - but feel free to send a text before. If you want to sponsor coals or something else, tell me and thank you :-D
Who - participants
The usual suspects, like me Henrik Kramshøj, F3, Tykling, ahf, ... you
Typical profile is IT people working in networking, hosting, security - with a common interest in IP protocols. Everyone is welcome but understand there will be no obligation to help you, but we are eager to share knowledge about Open Source, networking, languages, programming, electronics, etc. :-)
Note: there will be a nice relaxed athmosphere with no tolerance for discrimination like race, age, gender, religion, or choice of text editor!
Small print
Dont be a dick
It is a residential area with neighbors, so no loud noises during night etc. Enjoy danish hygge! :-)
About
The Network Warrior Weekend Camp
The name originates in part from the big hackercamps, but also from the book Network Warrior. I also find martial arts to be a huge inspiration.
I recommend the book Network Warrior, 2nd Edition Everything you need to know that wasn't on the CCNA exam By Gary A. Donahue Publisher: O'Reilly Media Released: May 2011 http://shop.oreilly.com/product/0636920010159.do or another warrior book I can recommend is the Juniper Network Warrior.
I also have a nice library with books you are welcome to use and read during camp.
Best regards
Kramse
--
Henrik Lund Kramshøj, Follower of the Great Way of Unix
hlk@kramse.org hlk@zencurity.dk
+45 2026 6000

IRC channel
We have an IRC channel named #nwwc on server irc.baconsvin.org port 6697 - with TLS of course.